As of May 4, 2015, the United States District Court, Eastern District of Kentucky will be implementing an Interactive Voice Response (IVR) system for juror call-in reporting instructions.
The telephone number for jurors to call to obtain their jury reporting instructions is now 1-844-625-5003.
This telephone number is for reporting instructions only. If a juror needs assistance and needs to speak with a jury clerk, they will call the main office number of their division.
When calling for jury reporting instructions, it is important that the juror have their 9-digit Participant Number readily available. The Participant Number will access their individual instructions for jury service. At that time, the recorded message will tell the juror whether they are required to report for jury duty. If a juror is given a different date to report, the juror MUST call this number again the evening before they are instructed to report.
PLEASE NOTE: Jurors will still use their Pool Sequence No., or "juror number," when they report. Please see the example below: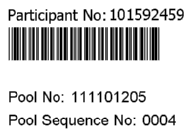 Jurors may continue to check reporting instructions on our website via the Check Juror Status page.